Fire Department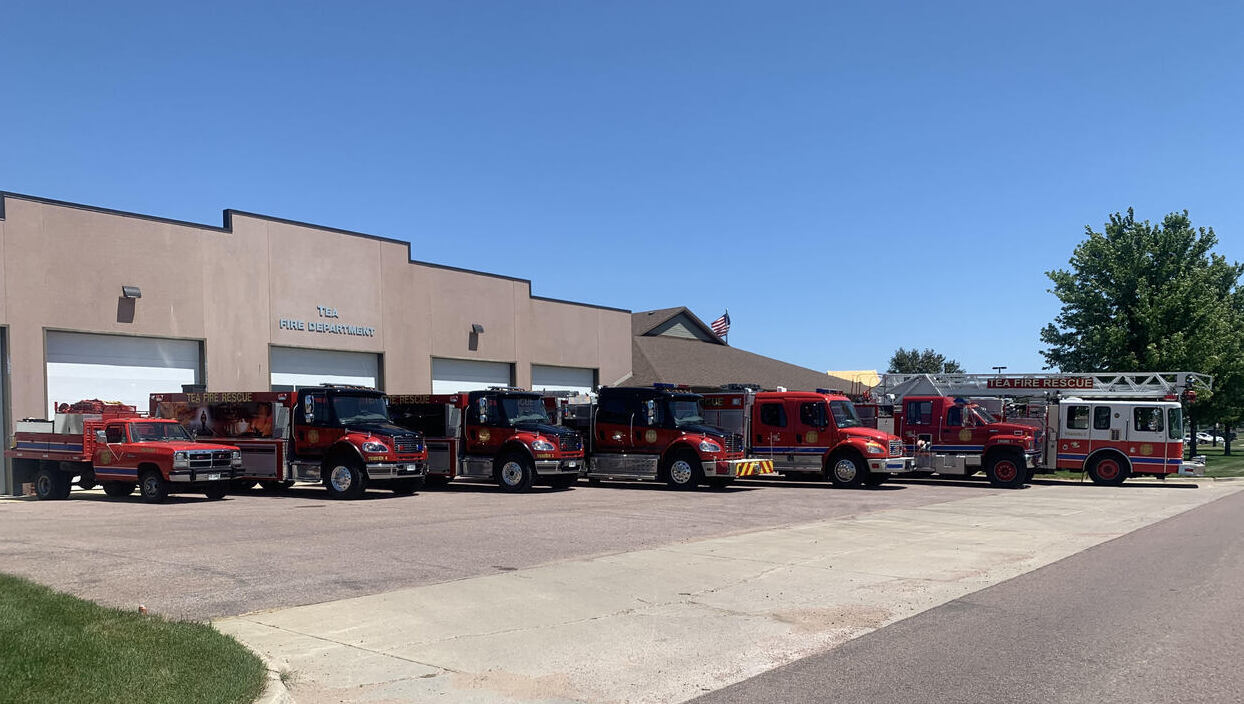 The Tea Fire Department is a 100% volunteer department that is dedicated to the community of Tea, its businesses, friends, and neighbors. Our members provide primary fire suppression and emergency medical service to the City of Tea proper and a 52 square mile area of Lincoln County that immediately surrounds the City of Tea. We operate 7 tactical companies that respond from one fire station. These companies maintain a high operational tempo due to a rural service area that generates roughly 400 emergency responses each year.
Our organizational motto is Taking Pride in Excellence and we are blessed with members who live up to that motto every day. I could not be more proud of the level and quality of service that our members provide to our community and this website will showcase who they are and the work that they do.
The Tea Fire Department is connected to the Tea City Hall building, which is located at 600 East 1st St.
ENGINE 1

This truck was built in 2004. For many years, and before Truck 7, Engine 1 was the "first-out" truck for our department. It now serves as our wildland pumper and our backup pumper for out-of-town fires. It carries 1000 gallons of water, a generator, and a deluge gun with 4 personnel.

ENGINE 2

Engine 2 is a 2014 Freightliner built by Rosenbauer that seats 5 personnel. It is equipped with a 1,500 gallons per minute pump from a 1,000-gallon tank, electronic deck gun, hand and power tools, and ground ladders. This is our first-out truck for most fires we have in our Tea district followed by our tenders to haul water.

TENDER 3

Tender 3 was built for us by Midwest Fire out of Luverne, MN in 2018 to replace our 2,000-gallon tender and now serves the Murdo Fire Department. This truck is a 2018 Freightliner tandem-axle truck that hauls 3,000 gallons of water inside a poly tank. It has a drop tank for rural structure fires and 3 different water dumps, one out each side and one out the back, to accommodate the scenarios we are faced with.

TENDER 4

This truck replaced our 1997 GMC 450 that hauled 1,500 gallons of water. It was built in 2019 by Midwest Fire as well and was duplicated from the Tender 3 build. Tender 4 is a 2019 Freightliner with a tandem axle that carries 3,000 gallons of water. Also equipped with a drop tank and a 500 gallon per minute pump. Our tenders help our rural /non-hydrant accessible fires being able to carry more water at one time.

RESCUE 5

Rescue 5 is a 2005 Freightliner that seats five personnel. Rescue 5 responds to all emergency calls we have in the Tea district as well if mutual aid is needed by neighboring communities. It has an integrated generator with a light tower and it carries all medical, extrication, and rescue equipment. It carries two hydraulic pumps on 100' cord reels to support extrication activities. It also provides an air bottle fill station where we can refill air tanks directly on the fire scene. Rescue 5 is considered the carry-all, do all of our department.

TRUCK 7

This truck is a 75-foot quint. It was purchased used in 2009 to replace our 1973 American LaFrance 50 foot ladder which now serves Mount Rushmore. This truck has been the "first in" for all fires within city limits and the aerial waterway is a must for defensive fire operations. It carries 500 gallons of water, has a 75-foot aerial ladder and a 1500 gallon per minute pump. It also carries a variety of ground ladders, hand and power tools, it isequipped with a generator and can carry 6 personnel. Truck 7 is our best friend on all structure fires!

WILDLAND 1

Wildland 1 is a 1991 Dodge Ram 350 1 ton powered by Cummins turbo diesel engine. This truck is our first out on most grass and wildland fires. It carries 300 gallons of water and a variety of wildland hand tools. This truck has served wildland fires out west in South Dakota.

WILDLAND 2

This ranger was purchased to accommodate wildland fires in the rough terrain and hard to get to spots that Wildland 1 cannot get to. This vehicle is a 2009 Polaris Ranger 6x6 that carries 30 gallons of water.

SUPPORT

Just as it is labeled, this support truck is for anything we may need from more personnel to staging at a high school football game with medical equipment. Our support pickup is a 2006 Chevy Silverado 1500 Crew Cab.